The DJP Mobile Production Unit is a 16-foot trailer that allows us to have all of our production capabilities available to us anywhere we go, and to be setup in just a few minutes. Everything inside supports Ultra HD 4K, it can seat up to 8 crew members, and it has flexible signal routing to allow most functions to be performed at any seating position, allowing us to alter and optimize the layout and workflow for any event.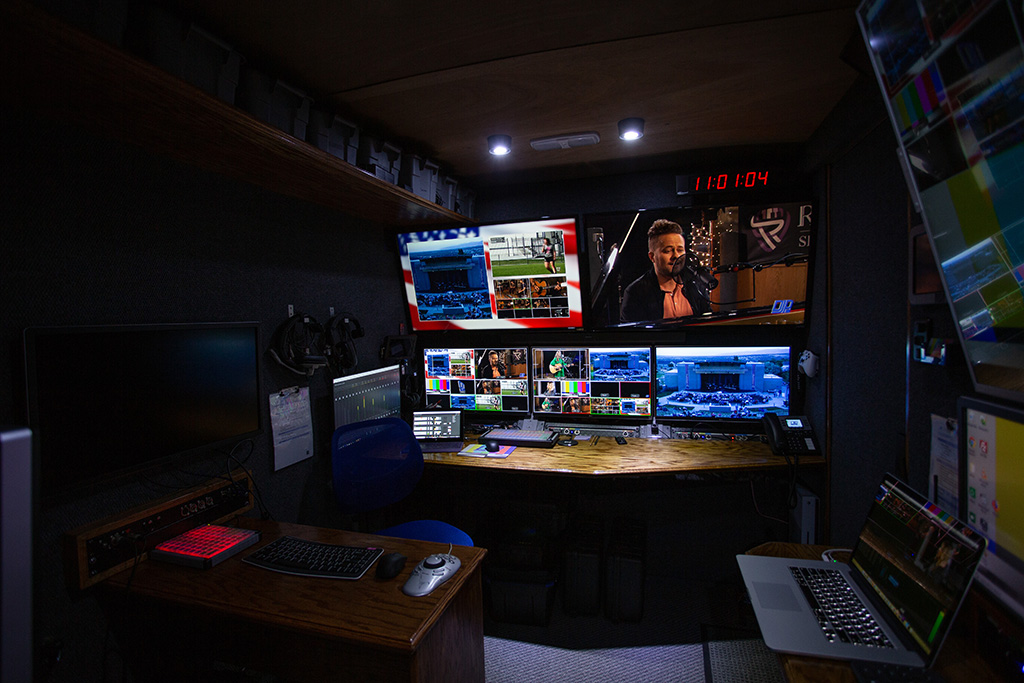 Capability Highlights
Video
Handles up to 20 cameras
10 Cameras Kept On-Board, most 4K capable
8 Flexible Seating Positions
Fully 4K capable
Flexible video routing -- send any signal to any of its 18 monitors
8 Video Recorders
Signals transported over fiber optic cables, capable of sending signals for miles
Dual M/Es to produce two programs simultaneously
Switcher with SuperSource and DVE for picture-in-picture and other real-time effects
Adobe Creative Cloud and DaVinci Resolve video editing with real-time capture
Audio
40-channel Yamaha Dante-based audio mixer with Genelec monitors
Dual 16+8 channel digital snake breakout boxes for audio, plus an optional second 40-channel mixer for in-venue operation (including FOH mixing capability)
Every audio channel can be recorded separately
48kHz, 24-bit audio, up to 192 channels of audio recording and routing
Intercom
Dual-channel intercom connections at every station
48kHz, 24-bit extremely high quality audio
All intercom audio is processed through a dedicated audio mixer with EQ, dynamics controls, auto-mixing
Dante-linked to extend distances and interconnect with venues
Telephone-linked for extended distance communication
General
Power efficient: requires only two 110V 15A circuits
Can be powered by a single, optional generator
Space efficient: fits in a standard parking space
Battery backup to prevent downtime in case of power outage
400W solar panels to augment external power and batteries
Cellular connectivity for streaming in areas without available Internet connections
Computers at each station for producing graphics, video playback, web browsing
Clipboard-style document holders at each station
Information Cards
When giving tours of the trailer, DJP posts cards at each station describing their function. These are available for download. A list of connections is available as well.
Layout
The MPU is setup so that any video signal can be routed to any location inside the trailer, so most jobs can be accomplished from any seating position. Certain jobs are more optimally performed from specific locations, as shown below.
Technology Highlights & Equipment
We have a list of some of the technology features of the trailer, and a partial equipment list. Also, see the FAQ page for answers to common questions.
Shot by DJP
Even though it's still relatively new, the DJP trailer has been used for more than sixty days of production. We've listed a few of the publicly available videos that we've shot with it here.
YouTube channel
We have a YouTube channel where we covered the construction of the trailer.